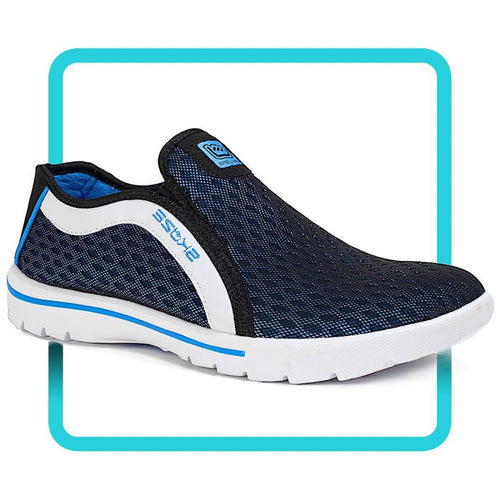 * Note: This shoe runs about a 1/2 size to full size small. We recommend choosing the next size up for those with wider feet.
Skuze is a new brand of premium lifestyle shoes, featuring ultimate lightweight comfort for casual, everyday wear.
Step into action with the Venice by Skuze. Minimalistic simplicity never looked so good. Its seamless design makes the Venice an easy choice for those seeking a lifestyle shoe that performs as well as it presents.
The shoe's casual elegance and on-the-move personality masks its unsuspecting state-of-the-art comfort and support. Weighing a mere 5.5 ounces, the Venice truly gives you the feeling of walking on air.
This ultra-comfortable slip-on features a molded Skuzeprene exterior that's flexible and breathable. The stretchy, perforated material uniquely conforms to the contours of your feet to support natural foot mechanics. And yet simultaneously, its elastic-like composition provides enough give for easily gliding the shoes on and off.
With the Venice, you will look great while discovering Skuze's signature ultimate lightweight comfort.
Extremely lightweight - 5.5 ounces.
Smooth stretch binding construction for non-abrasive, seamless comfort.
Perforated, lightweight Skuzeprene fabric provides a natural feeling fit.
Hypoallergenic, non-toxic, breathable, high-stretch material.
Anti-odor, anti-microbial molded footbed.
data-id="6143416107187">
Returns Policy
We are committed to helping you get the right products and will do our best to satisfy you. If you aren't completely happy with your purchase, simply return it within 30 days from purchase.
Returns must be in new condition, in the state you received them. We reserve the right to refuse worn or damaged merchandise. In any other case please contact us, we will do our best to help you with your purchase on a case by case basis.
Shipping
We offer FREE standard shipping within the United States. You can also select express shipping options at checkout for faster shipping.
Recently Viewed Product
You can manage this section from store admin as describe in above section